X6800 is one of our most advanced real-time x-ray inspection systems, it can be widely used in Non-destructive analysis of semiconductor, SMT, and electric component quality checking.
Working Principle
Application
BGA , CSP , Flip Chip, LED , Fuse, Diode, Sensors, PCB Voids
Semiconductor , Battery Industry , Small Metal Casting, Electronics Cables and Connectors, 3D Printing Module, Medical Device and Parts.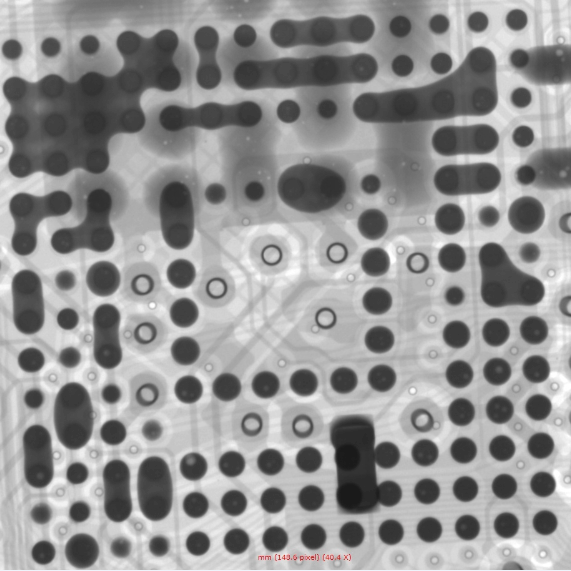 BGA Solder Bridge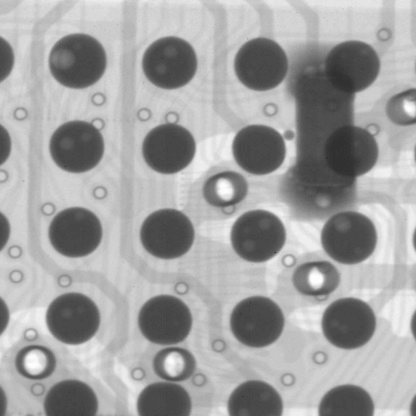 BGA Solder Voids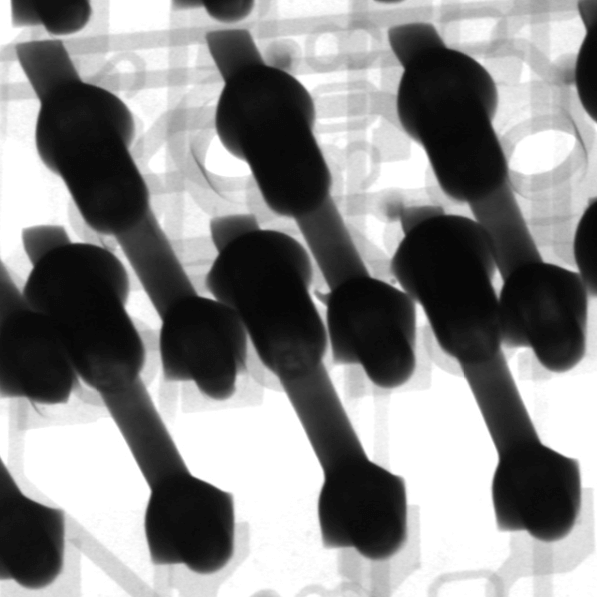 PCB Through-hole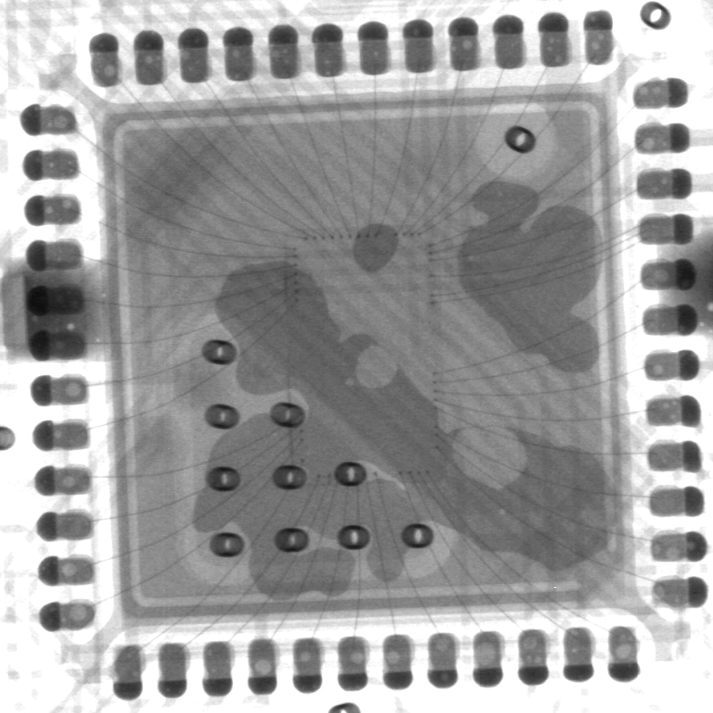 IC Voids and Gold Wire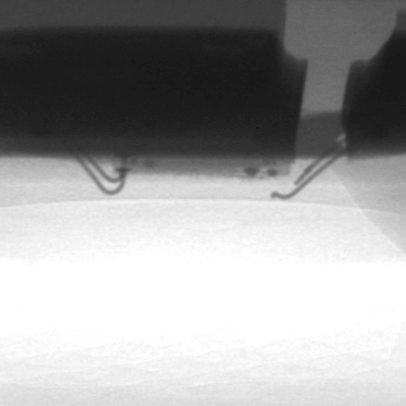 LED Gold Wire Crack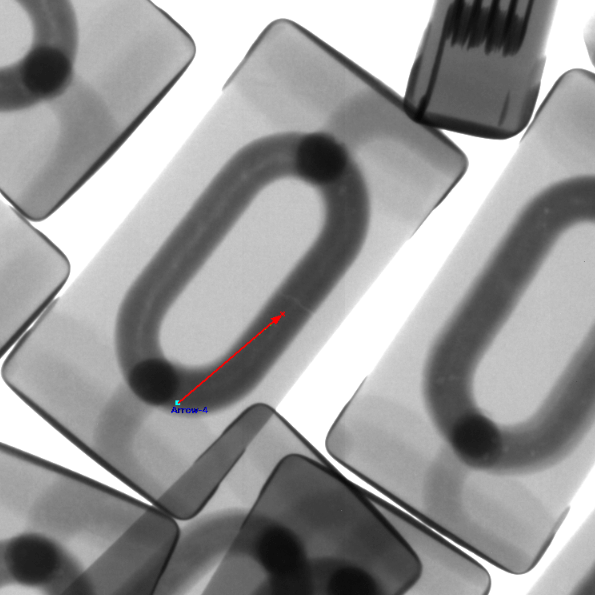 Inductor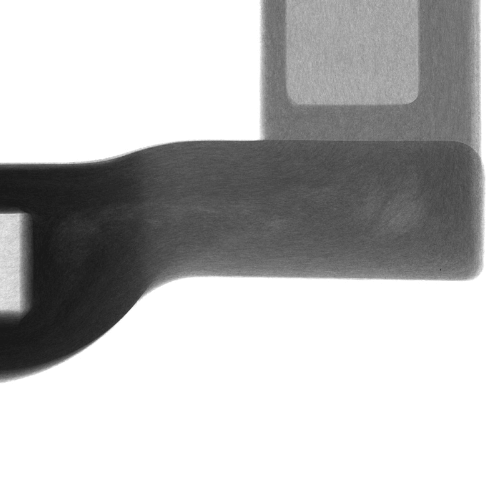 Fiberglass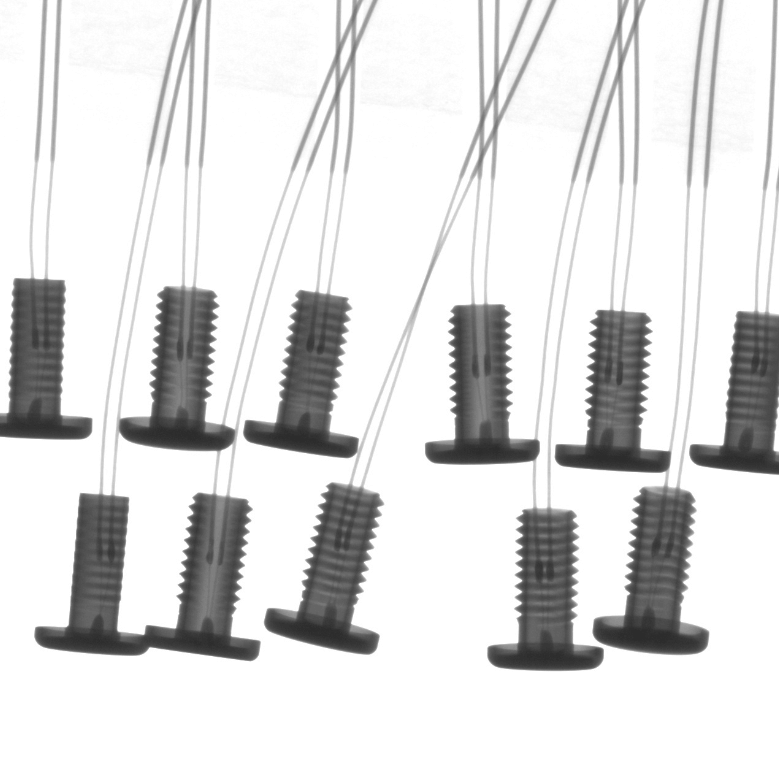 Diode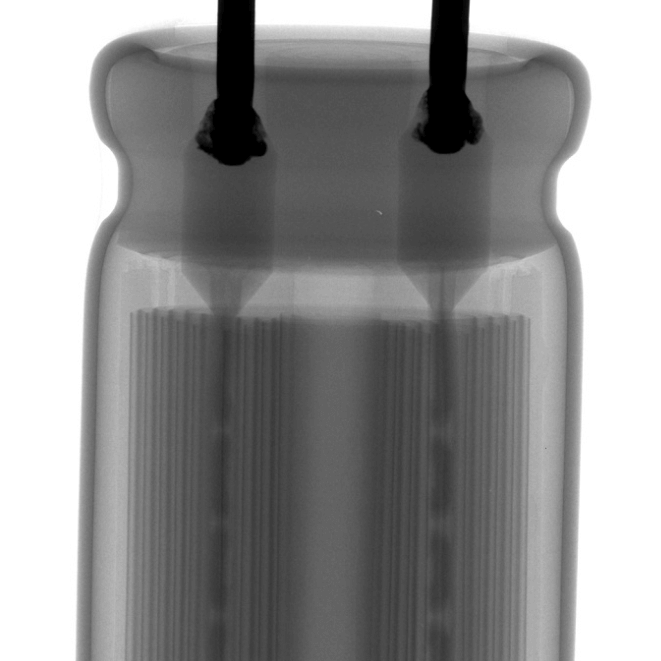 Capacitor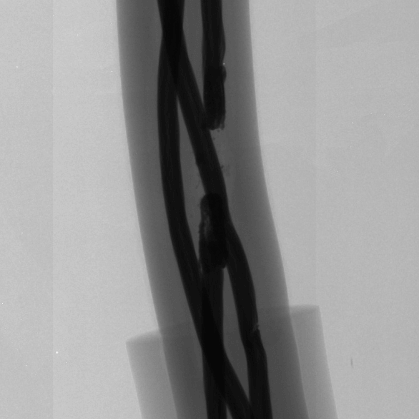 Cable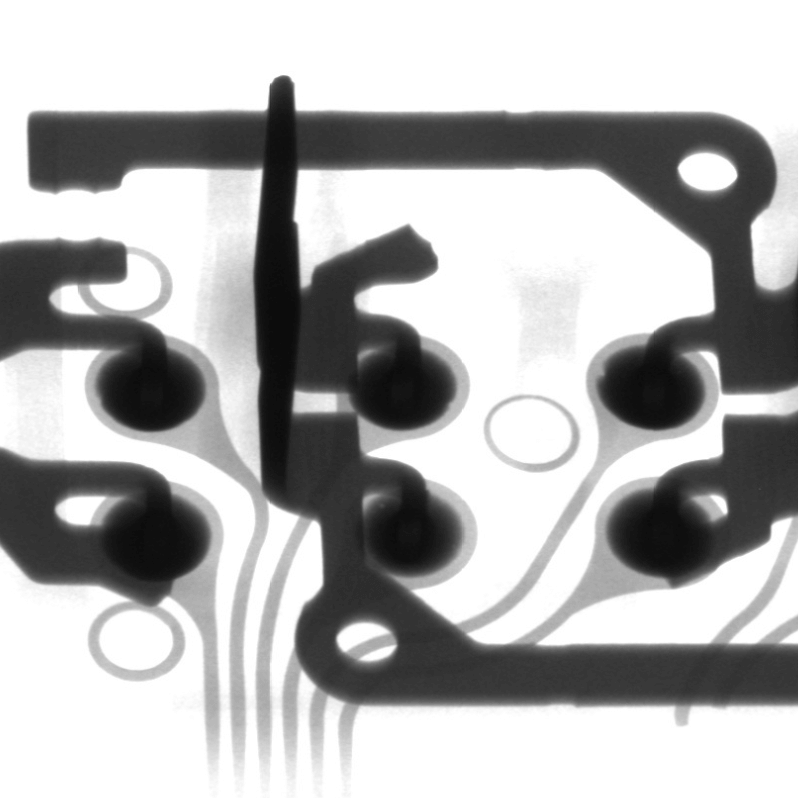 Automobile Electronics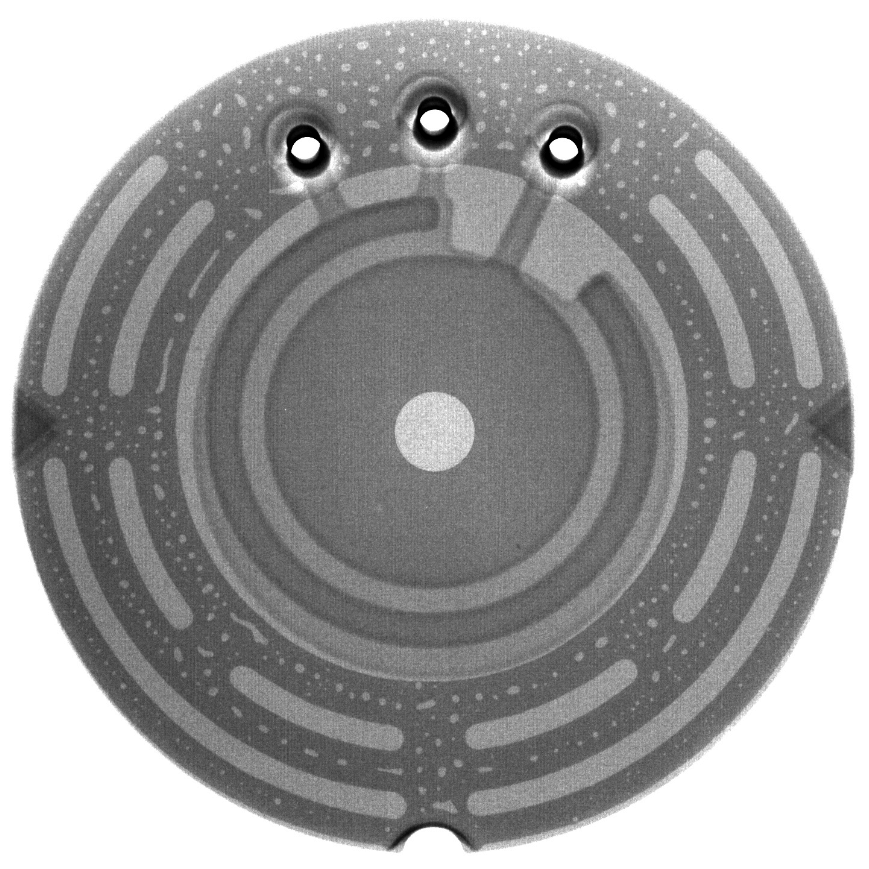 Sensor
X6800 X-ray Inspection System Features:
40kv – 90kv closed type micro-focus closed x-ray tube(Hamamatsu), focal spot size down to  5µ
HD digital flat panel detector (Rayence)
60° detector tilting for oblique angle viewing, x-ray image keep central while tilt.
530mm x530mm  inspection area with 10kg load capacity
Automatic navigation software provides easy positioning and identification of defects area.
Adjustable 5 axis linkage system
Quick inspection parameter settings, inspection area adjust.
Inspection software provides access to create advanced inspection procedure for automated inspection in large quantities.
Multifunctional measuring tools including BGA void detection and automatic calculations, radius, area, perimeter, measuring, repeat programming
Industrial PC with Windows 7 PRO, 24" LCD flat panel display
Low maintanance requirements
360° rotary sample jig support(optional)
1.X6800-Hardware-Parameters
X-ray source
Brand
Japan Hamamatsu
Type
Closed, microfocus
Max tube voltage
90kV (100kV, 110kV, 130kV optional)
Max tube current
200μA
Focal spot size
5μm (4μm, 2μm optional)
Function
Auto preheat
Flat panel detector
Effective area
130mm*130mm
Pixel size
85μm
Resolution
1536*1536
Frame rate
20fps
Tiltable angle
60°
Table
Size
530mm*530mm
Detectable area
500mm*500mm
Max load
10kg
Equipment
Magnification
Geometry 200X, System 1500X
Inspection speed
Max 3.0s/point
Dimensions
1360mm (L) * 1365mm (W) * 1630mm (H)
Weight
1350kg
Power supply
AC110-220V 50/60HZ
Max power
1500W
Industrial PC
I5 CPU, 4G RAM, 240GB SSD
Displayer
24" HDMI LCD
Safety
Radiation leakage
No leakage, international standard: ≤1μSv/h
Lead glass observation window
Transparent lead glass window shields radiation to observe the inner status.
Window and back door safety interlock
Once users open the window or back door, X-ray tube will power off immediately. When the window or back door is open, users can't turn on the X-ray.
Electromagnetic safety switch
Lock once the X-ray is on, users can't open the observation window.
Emergency stop
Next to the operation position, press to power off.
Tube protection
User can't leave the software to if you don't close the X-ray tube.
2.X6800-software-parameters
Function module
Operation
Keyboard and mouse can finish all operations
X-ray tube control
Using mouse to click the X button can turn on or off the X-ray. The real-time tube voltage and current value will display beside, users can click up and down button, or drag the slider, or type to adjust.
Status bar
Indicates the interlock status, pre-heat status, and X-ray status by flashing alternately red and green.
Image effect adjustment
The brightness, contrast and gain of the image can be adjusted freely to achieve a satisfactory result.
Product list
Users can save the inspection parameters such as Z-axis position, brightness, contrast and gain, and can directly call the parameters when inspecting the same product, to improve the inspection efficiency.
Navigation window
After the camera takes a photo of the table, click anywhere in the photo, the table will move to the place you click and display on the screen.
Motion axis status
Display real-time coordinates.
Inspection result
The measurement results (voids rate, distance, area, etc., set by users) display in order.
Speed control
The movement speed of each axis can be adjusted to slow, normal and fast.
Voids rate measurement
Automatic calculation
Click on two points to determine a rectangle. The software automatically finds and measures the edge of the solder ball in the rectangle, the pad and the internal voids, and can get the data of the voids rate, the area of the solder ball, the circumference, the biggest void's rate, the length and the width, and indicates NG or OK by red and green.
Parameters adjustment
Users can adjust the grayscale threshold, pixel, contrast, size filtering and other parameters to get accurate results of automatic calculation.
Add voids manually
Users can draw a polygon or a free figure and calculate it as a void into the void rate.
Save parameters
Users can save parameters such as grayscale threshold, pixel, contrast, size filtering and other parameters, and can directly call the parameters when detecting the same product, to improve the detection efficiency.
Other measurement function
Distance
Click the A and B points to set as the baseline, then click the C point to measure the vertical distance from the C point to the baseline.
Distance rate
It is mostly used to measure the soldering rate of the through-hole. Set one more point "D" than the distance. Divide the vertical distance from the D point to baseline by the vertical distance of the C point, to obtain the percentage ratio of the vertical distance of D to C.
Angle
Click the A and B points to set as the baseline, then click the C point to measure the angle between the BA and BC rays.
Radius
It is mostly used to measure round components such as solder balls. Click three points to determine a circle and measure the circumference, area and radius.
Perimeter
It is mostly used to measure square components, click two points to determine a square, measure the length, width and area.
Automatic inspection
Manual setting
Users can set any positions on the table as inspection points, the software will automatically inspect and save the picture.
Array
For the regular inspection points, users only need to set two of the inspection points and the number of rows and columns, the software will automatically inspect each point and save pictures.
Automatic identification
For inspection points with obvious features, the software automatically identifies the positions, takes measurements, and saves the image.
All X-ray machines manufactured by Wellman meet the requirement of FDA-CDRH Regulation CFR 21 1020.40 Subchapter J for cabinet x-ray systems. The FDA – CDRH standard for cabinet x-ray systems states that radiation emission shall not more than. 5millirem a /hr.2″from any external surface. Our machines  (X-Ray Radiation Level <1μSv/h )  are typically 5-10 times less emission than the international standards, so there are no radiation concerns for operators.
| Operation Safety | |
| --- | --- |
| Radiation Leakage | No leakage, international standard: ≤1μSv/h |
| Lead Glass Observation Window | Transparent lead glass window to shields radiation, safe to observe the inner status. |
| Window and Back Door Safety Interlock | Once open the window or back door, the X-ray tube will power off immediately. When the window or back door is open, the operator cannot turn on the X-ray. |
| Electromagnetic Safety Switch | Once the X-ray is on, the window will automatically lock, so the operator can't open the window. |